Are California housing prices going up or down in 2022
Posted by Andrew Lamb on Sunday, May 22, 2022 at 9:31 AM
By Andrew Lamb / May 22, 2022
Comment
The California housing market continues to perform well as buyers enter the market in anticipation of rising mortgage rates. The market sizzled last year and broke all kinds of records, and the statewide median price is expected to edge higher in the coming months as the market enters the Summer homebuying season.
Despite infaltion and rising mortgage rates, the April 2022 market was still highly competetive mainly due to rising interest rates and low housing inventory that is causing the sense of urgency to buy among the prospective homebuyers. The median price for homes reached an all-time high at $884,890 in April 2022; surpassing the previous record in March by more than 6%.
Will California's Housing Market Become Less Affordable?
The cost of housing is increasing across the state, which makes it harder for people who want to buy or rent an affordable place. In fact only 24% could afford $797K homes - down from 25 percent last quarter and 27 percent first three quarters ago!
The California housing market is getting tighter and more competitive by the day. The percentage of home buyers who could afford to purchase a median-priced, single family house in CA fell below 25% for this quarter's index which reflects an decrease from 27%. This figure also falls just under half (49%) on its peak level seen at around 2012 when it hit 56%.
Source: Q1 2022 Housing Affordability Index By C.A.R.
Housing is a fundamental need for most people. The California Association of Realtors has created an index to measure how affordable it would be in your area if you were buying the median-priced home available there at today's prices, and these numbers can tell us something about what kind or location might suit our lifestyle best!
The California housing market is still hot and prices continue to rise. Our historically low cost of mortgages, combined with an imbalance in supply vs demand has caused this surge in prices in every region - from expensive coastal metros like San Francisco or Los Angeles down into less developed southern areas such as Orange County where new construction can't keep up with demand. This is leading to bidding wars more often than not among would-be homeowners trying desperately to get their hands on some property before someone else does, because there just aren't many available currently.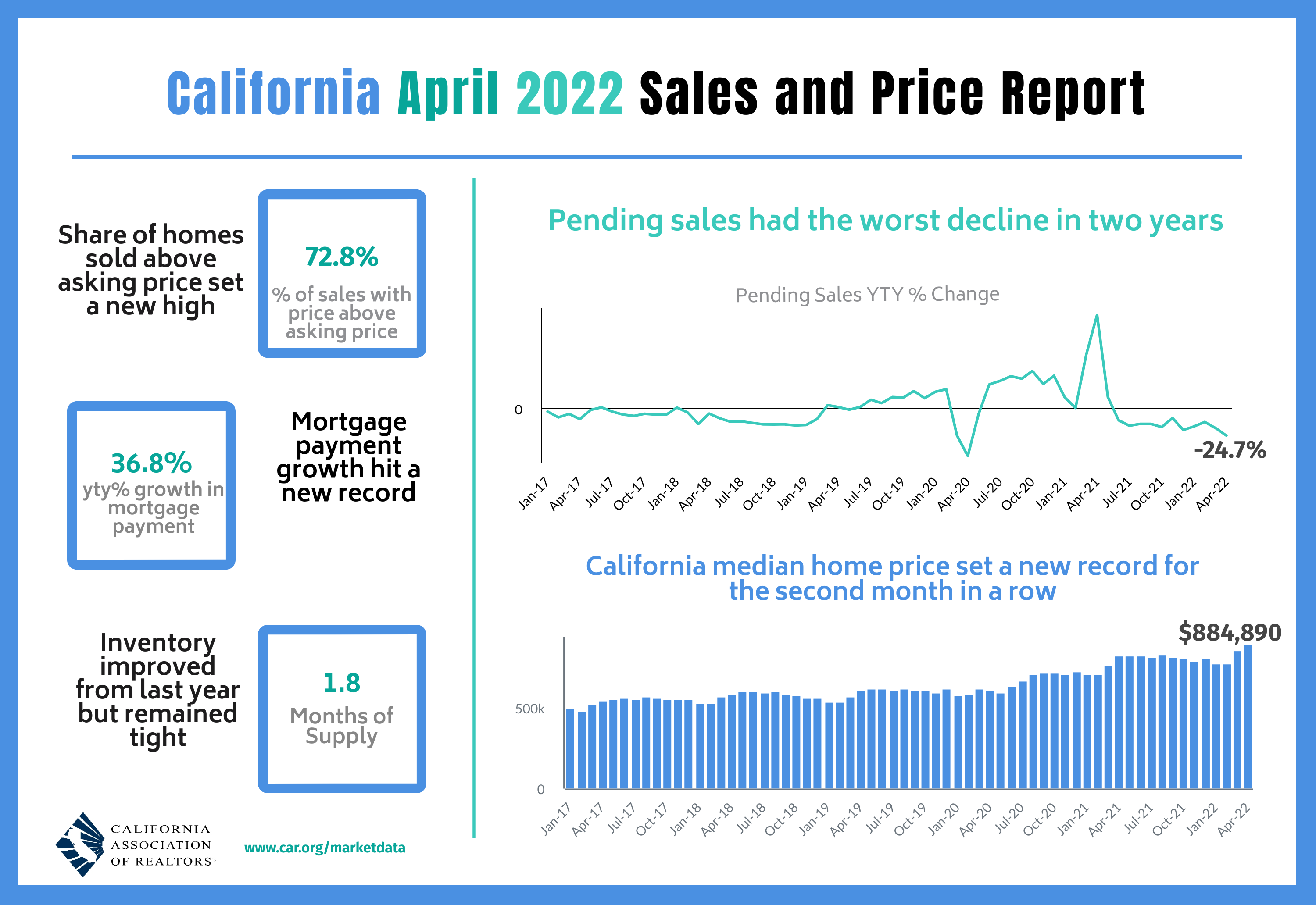 Source: C.A.R.'s Apr 2022 Sales & Price Report
Will The Housing Market Crash in California in 2022?
Will the housing market go up or down in California? Each month CAR surveys 1,000 California consumers regarding their sentiments about various aspects of this critical issue. The overall index reached 67 (unchanged from last month) with consumers acknowledging current challenges and feeling increasingly pessimistic on homebuying opportunities.
The number of consumers who think it is a good time to buy has risen from 16% in February, to 17% in March, but 2/3 of all buyers still believe that home prices will rise over the next twelve months. Experts agree stating on average that homes will increase by about 9% across the country.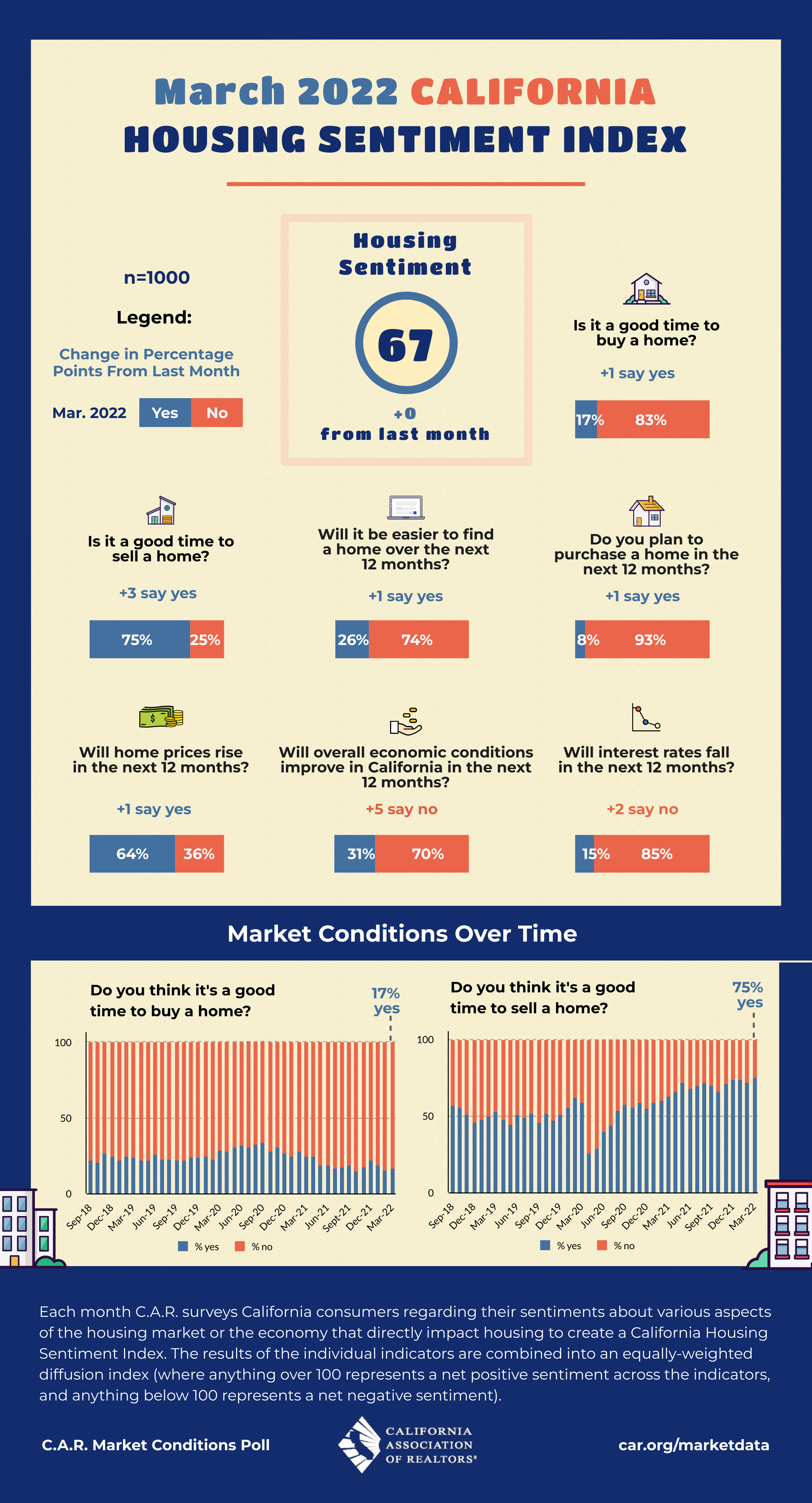 If you're looking to buy or sell, timing your local market is an important part of building wealth through real estate or simply making a move. It's a great time to sell in the California housing market. Low inventory means that prices will continue rising, and prospective buyers are fighting over your property like never before. Sales Price-to List Price ratio has been 104% this April 2022, and 73% of homes sold above asing price.