The Standard: e-Edition - April 2019
Posted by Andrew Lamb Team on Thursday, April 11, 2019 at 7:35 AM
By Andrew Lamb Team / April 11, 2019
Comment
Welcome to my new publication, The Standard - The Real Estate Newspaper for Fairfield. Download the April issue here.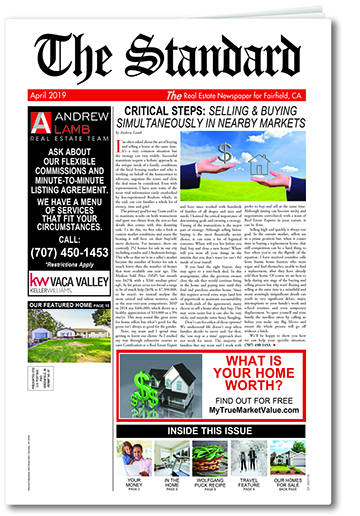 In the April edition, I've included valuable information about important steps when you're selling & buying simultaneously in nearby markets, The Green Valley Neighborhood in Fairfield one of 'The Best Neighborhoods in California' , the latest housing market updates, and more.
I sincerely hope you enjoy my new monthly newsletter. If you're interested in receiving a copy in your inbox, suscribe here. And don't forget to pass this along to your family and friends!